YOUR BLACK BEAUTY: BEST HAIR CHOICES
Eliminating Black women's hair issues sounds like a formidable task. For my mother's generation(born 1945 and earlier) of Black women, that task remains formidable. But Generation Z(born between 1996 and 2015) and future generations(born 2016 and after) of Black women can avoid the hair issues of generations past if they make one simple move. Black women, one SIMPLE move GUARANTEES you can AVOID the EMOTIONAL(hate, shame, embarrassment), PHYSICAL(scalp burns, follicle damage, hair loss), and FINANCIAL(bi-weekly nearly all-day Saturday hair appointments, three of every grooming products) TRAUMAS from wearing relaxed curly perm hairstyles. Here's the move: entirely or gradually, cut off your relaxed and curly-permed hair and DECIDE FOREVER to ONLY wear a bald head, an Afro, or SisterlocksTM.
IT REALLY IS JUST THAT SIMPLE!
Did I say wear a bald head, an Afro, or SisterlocksTM? Yes! In fact, these hairstyles are the only ones perfectly complimenting, highlighting, accentuating, and harmonizing with your beauty. Let us talk about these choices.
BALD HEADS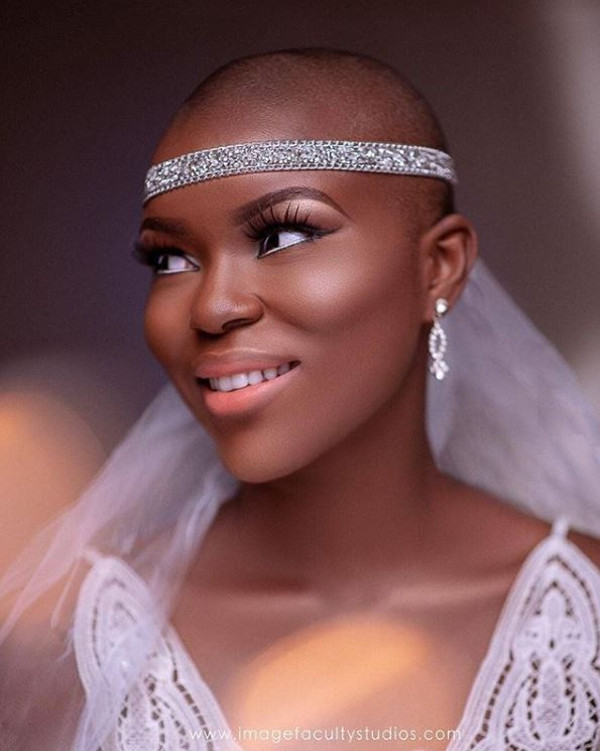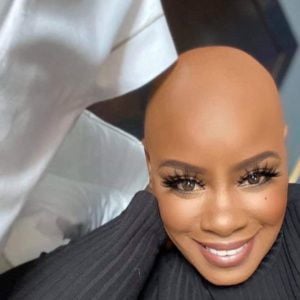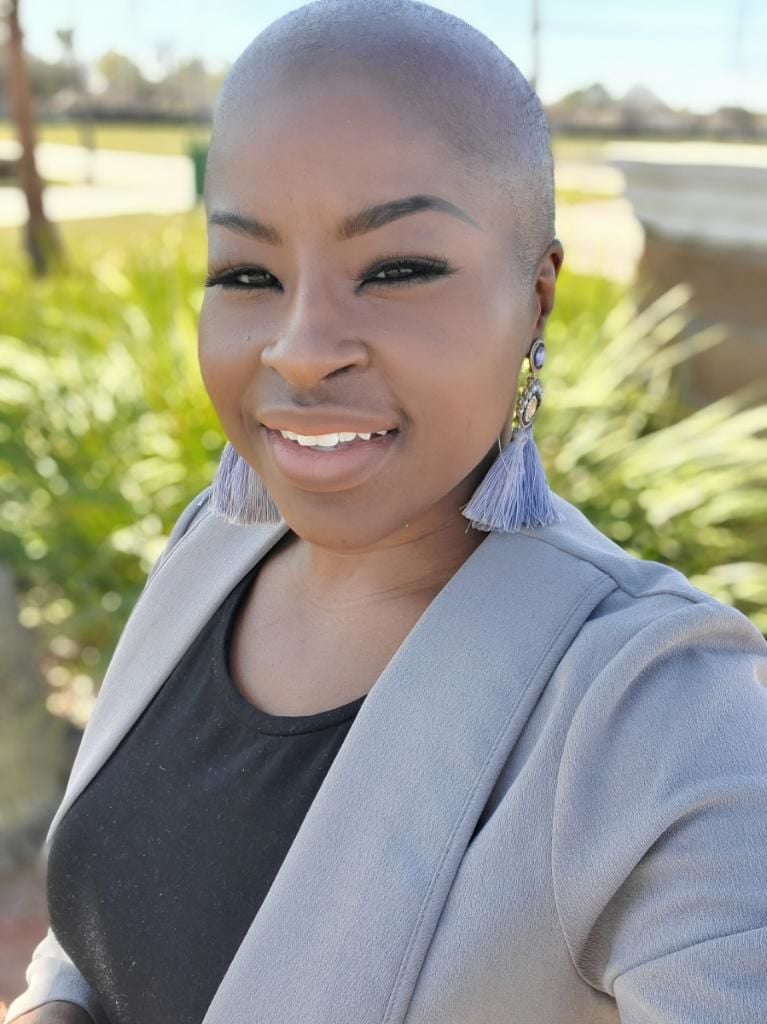 A bald head, really? Oh Yes! Black women, ESPECIALLY those with DARK skin, SUPER KISSABLE mouths, PROMINENT noses, and large RADIANT eyes can wear a bald head with AS stunning and professional presence and influence as ANY aesthetic EVER created. In fact, the MOST beautiful, sexiest woman one will EVER see is a VERY DARK-SKIN, IN-SHAPE, NAKED, WET, BALD-HEADED, BLACK WOMAN!
WAIT A MINUTE! Do NOT, in a NEW-YORK minute, dig in your heels and EMPHATICALLY refuse to wear a bald head! Wearing a bald head may be the ONLY HAIRSTYLE OPTION available to you, DESPITE your strong preference for other hairstyles. If using relaxers, curly perms, and thermal(curling and flat) irons, and wearing extensions(hair additions of any kind) and white-knuckle(extremely tight) braids have caused extensive and permanent hair loss or very spotty scarring, a bald head MAY provide the MOST uniform, clean, and professional appearance. Under these conditions, wearing a head bald will eliminate you appearing with unsightly sparse hair patterns and spotty scalp and neck scarring.
COST may have to rule your hairstyle decision. Wearing a bald head stands clearly your LEAST expensive option. Assuming you will groom your bald head at home, a bald head will significantly cost less to maintain than the MOST POPULAR hairstyles Black women frequently wear. Maintaining the appearance and health of your bald head only will require using a moisturizing shampoo, a detangler (mild moisturizer), a sunscreen or glossifier (for sun protective shine), and a one-time purchase of a trimmer (Andis T-Outliner Beard and Hair Trimmer recommended).
STILL NOT CONVINCED? What about the convenience and comfort of wearing a bald head? You can groom ANYTIME your bald head in the comfort and privacy of your home INSTEAD of in salon and barber shops' hectic, often loud, and very public areas. What about the discomfort of sleeping with scarves and rollers needed to so-called protect relaxed, curly perm, locked, and Afro hairstyles? Bald heads do not require bedtime headgear so you can go to bed WITHOUT the discomfort from wearing scarves, caps, or rollers. Have you EVEN CONSIDERED the mental, physical, and emotional bedtime adjustments your mates make to stay sexually INTERESTED IN YOU when you frequently go to bed wearing scarves, caps, or rollers? Since bald heads do not require you to wear bedtime headgear, bedtime scarves, caps, or rollers DO NOT CHALLENGE your mates' abilities to STAY sexually interested in on you. Remember the pains in your necks from "SLEEPING PRETTY": your head in unnatural positions or angles so pillows cannot dislodge your headgear and ruin your hairstyles? Sporting a bald head lets you put your beautiful bald domes on a pillow and go STRAIGHT to sleep without ANY FEAR of some obstruction making your hairstyles look a mess in the morning. Wearing a bald head guarantees you can avoid ALL undesirable grooming practices, uncomfortable sleeping positions, and unhappy mate responses.
NEVER overlook the flexibility a bald head adds to your lifestyle. With little-to-no concern for your appearance, you can quickly go from playing a sport in the morning to attending, ON TIME, a seminar in the afternoon, from SOUNDLY SLEEPING to SUDDENLY AWAKENING to nurse a new-born child, from flirting with your mates a 3:00p.m. to beginning anew at 5:00 a.m., from getting filthy tending your gardens to dressing "TO THE NINES" for a concert, from spending a lazy day at home to fulfilling a friend's sudden need for airport pickup, and from cooking meals before church to refueling your cars before arriving there. A bald head is a FABULOUS option. Like the NIKE commercial says, JUST DO IT! Sport a bald head and look GORGEOUS!
AFROS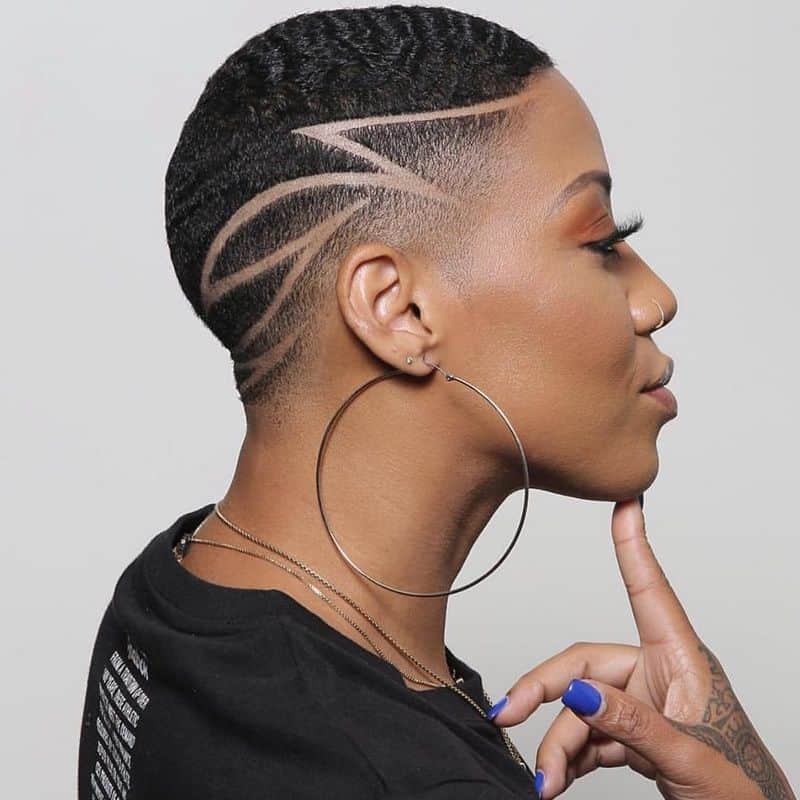 If you will not consider wearing a bald head, then consider wearing an Afro. Cut to any length(from near bald to 1970's long) and styled in any shape(box, round, asymmetrical, braided, multi-colored), an Afro, to perfection, can BEST serve the health and beauty purposes of the typical, very busy, Black woman. How? The Afro permits daily shampooing and conditioning, a NECESSITY for Black women working in dirty environments like manufacturing plants, professional sports fields, landscaping sites, and emergency rooms. An Afro permits comfortable sleeping. You can sleep with a head FREE of scarves and rollers. It permits quick styling. You can QUICKLY pick or finger-style your hair within ten minutes. Wearing an Afro, you can experience a broader range of activities WITHOUT fearing hair damage. You can swim in the morning, shower, get dressed, pick or finger style the hair, meet a date for lunch at a restaurant, go biking in the afternoon, shower again, get dressed again, pick or finger style the hair again, go to the movies at night, and not worry about the condition of the Afro in the morning. The Afro enhances the definition and expression of the face and neck. How, you say? It does so by highlighting your facial features: your chin, lips, nose, cheeks, ears, eyes, and forehead. Since an Afro grows up and behind facial features, the Afro provides a PERFECT BACKDROP for complimenting their prominence and voluptuosity. The Afro permits greater intimacy. The head becomes a pleasurable body part to touch, smell, and see since you can EASILY AND QUICKLY shampoo, condition, style, and scent the hair to AROUSE THE SENSES of your lover.
The Afro ESPECIALLY serves well the lifestyle of an artsy, flamboyant, must-frequently-change-my-hairstyle Black woman. An Afro's inimitable fullness, volume, precise sculpting properties, braid-able, multi-shape holding nature become an artist's DREAM LANDSCAPE for creating haute couture, avant garde hairstyles. An Afro: its style, nature, and flexibility makes it WORTHY of your sincere consideration.
SISTERLOCKSTM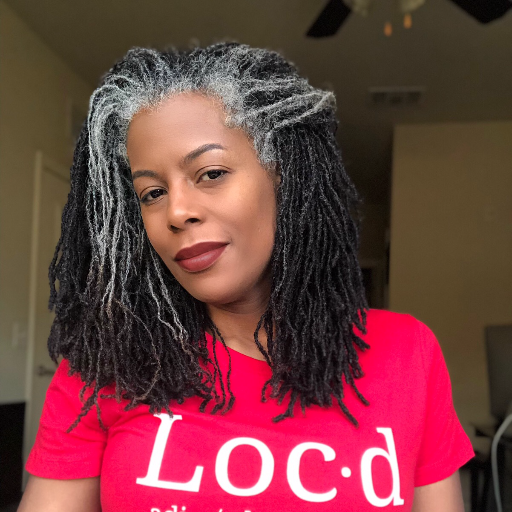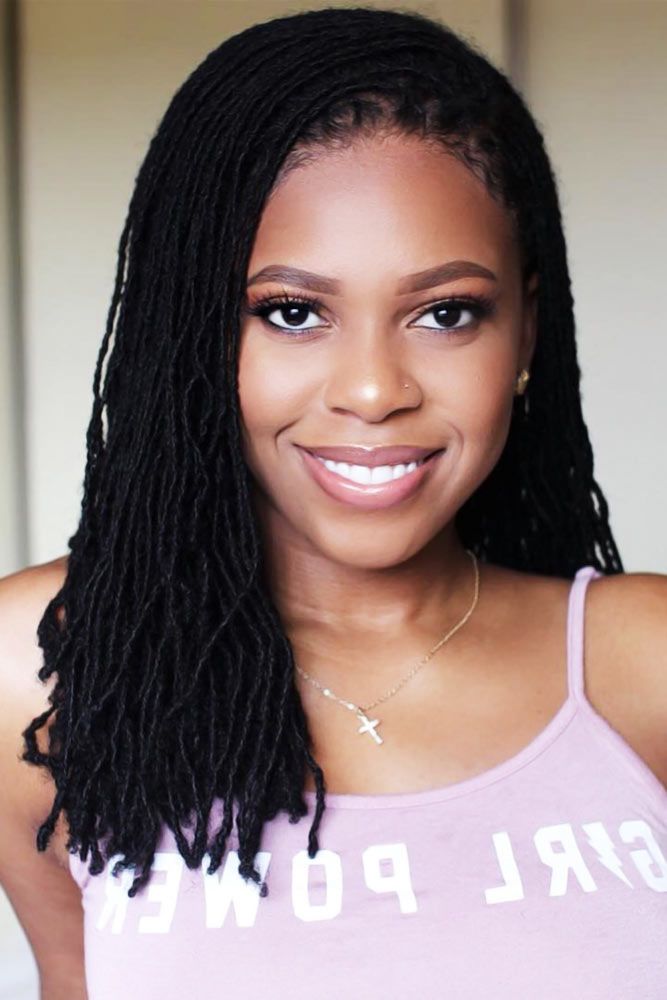 Yearning not for a bald head or an Afro, but for long, cascading natural hair? SisterlocksTM is your best choice! Sisterlocks,TM the world's most hygienic, refined, stylable, AND fastest-maturing hairlocks allow Black women to develop several STYLABLE locks without experiencing the negative side effects from wearing relaxers, curly perms, braids, and extensions. With SisterlocksTM, you can curl, braid, cut, part, and ponytail your hair. SisterlocksTM beauty lies in its simple and healthy way of handling new growth. Since it DOES NOT involve any hair extensions or additions, you can tighten your SisterlocksTM as your hair grows out WITHOUT FIRST removing and resetting the extensions or hair additions.
SisterlocksTM brilliance comes from using natural coily hair's own coily quality. It creates hairlocks capable of styling in MANY OF THE SAME WAYS as chemically relaxed or curled hair. LIKE NO OTHER LOCKED HAIRSTYLE, SisterlocksTM provide Black women with outstanding ways of experiencing unique and natural styling options without the following conditions:
 Weakened hair shafts, split ends, discoloration, allergic reactions, chemical burns, and limited growth potential.

 Unsightly disruption in the texture of locks as the natural hair grows out.

 Hair loss from chronic use of extensions, relaxers, curly perms, and heat.

 Both emotional and physical irritation from completely removing extensions to tighten or reset them.

 Expensive ongoing maintenance associated with extensions, braids, relaxers, and curly perms.

 Messy gel, beeswax, and oil residue appearing on the scalp. and face.
Like the Afro, SisterlocksTM permit frequent shampooing and conditioning, comfortable sleeping, and flexible styling. They also create activity loving, facial-feature enhancing, and intimacy-unveiling benefits.
So there you have it: THREE OUTSTANDING hairstyle options. Be BRAVE and VALUE YOURSELF enough to choose one! Choose TODAY to wear a bald head, an Afro, or SisterlocksTM. STOP COVERING your natural hair with scarves, wigs, bonnets, and do-rags, and MAKING EXCUSES like the following ones:
"I'm giving my natural hair a rest".
"I'm experimenting with protective styling".
"I like doing different things with my hair".
"I don't want to look like a man or gay".
"My religion doesn't support that hairstyle".
MY FAVORITE: "Black professional women don't wear those hairstyles".
NO MORE EXCUSES, HESITATIONS,
PROCRASTINATIONS, FEARS, AND DOUBTS!
Choose TODAY to wear a bald head, an Afro, or SisterlocksTM and watch your beauty achieve its potential.